Jacob's Creek
Tours & Experiences
Experience the best of the Barossa at Jacob's Creek
Fresh local produce, great tasting wines and a rich history, all while taking in breathtaking vineyards and views of the Barossa ranges. Enjoy lunch in our Restaurant, featuring seasonal food grown locally or picked fresh from our kitchen garden.

Our passionate team will host you for a food and wine matching experience, wine education and sensory session, cooking class and lunch packages. The Centre is set on a 42 hectare site with a picturesque bike track that weaves between the vineyards. We also offer a peaceful native garden walking trail where you can enjoy the native wildlife whilst you stroll along the banks of the world famous creek.
Jacob's Creek Gourmet Picnic
Relax under the shade of a Red River Gum Tree with a glass of Jacob's Creek wine and some gourmet produce from our kitchen garden and other Barossan producers. Our Jacob's Creek Gourmet Picnic is the perfect combination of fresh produce, world class wines, stunning views and of course, great company.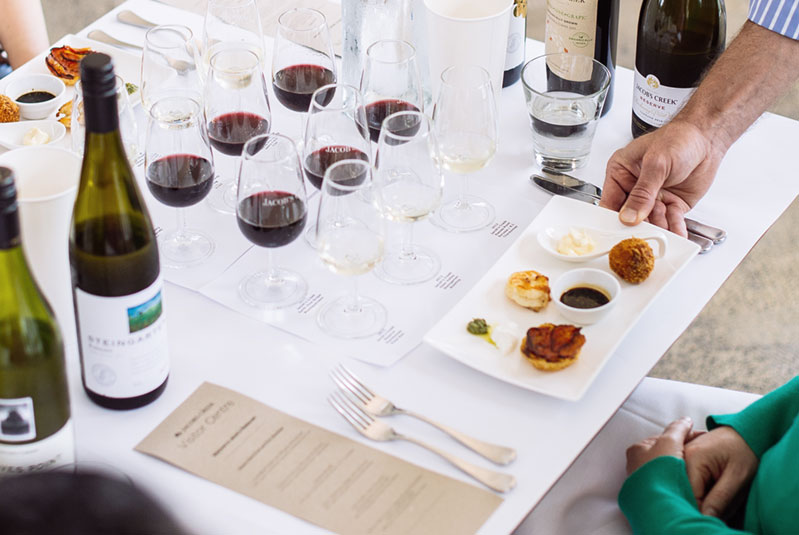 Jacob's Creek Food & Wine Master Class & Two Course Lunch
What better way to allow yourself the guilty pleasures of eating food and drinking wine, than with the knowledge that you are simply learning a new skill. Join our food and wine matching master class at Jacob's Creek. Our staff will take you through some truly remarkable matchings in food and wine as you delve into the world of combining flavours and tastes. Once class is dismissed, you will be treated to a two course lunch and a glass of wine or two.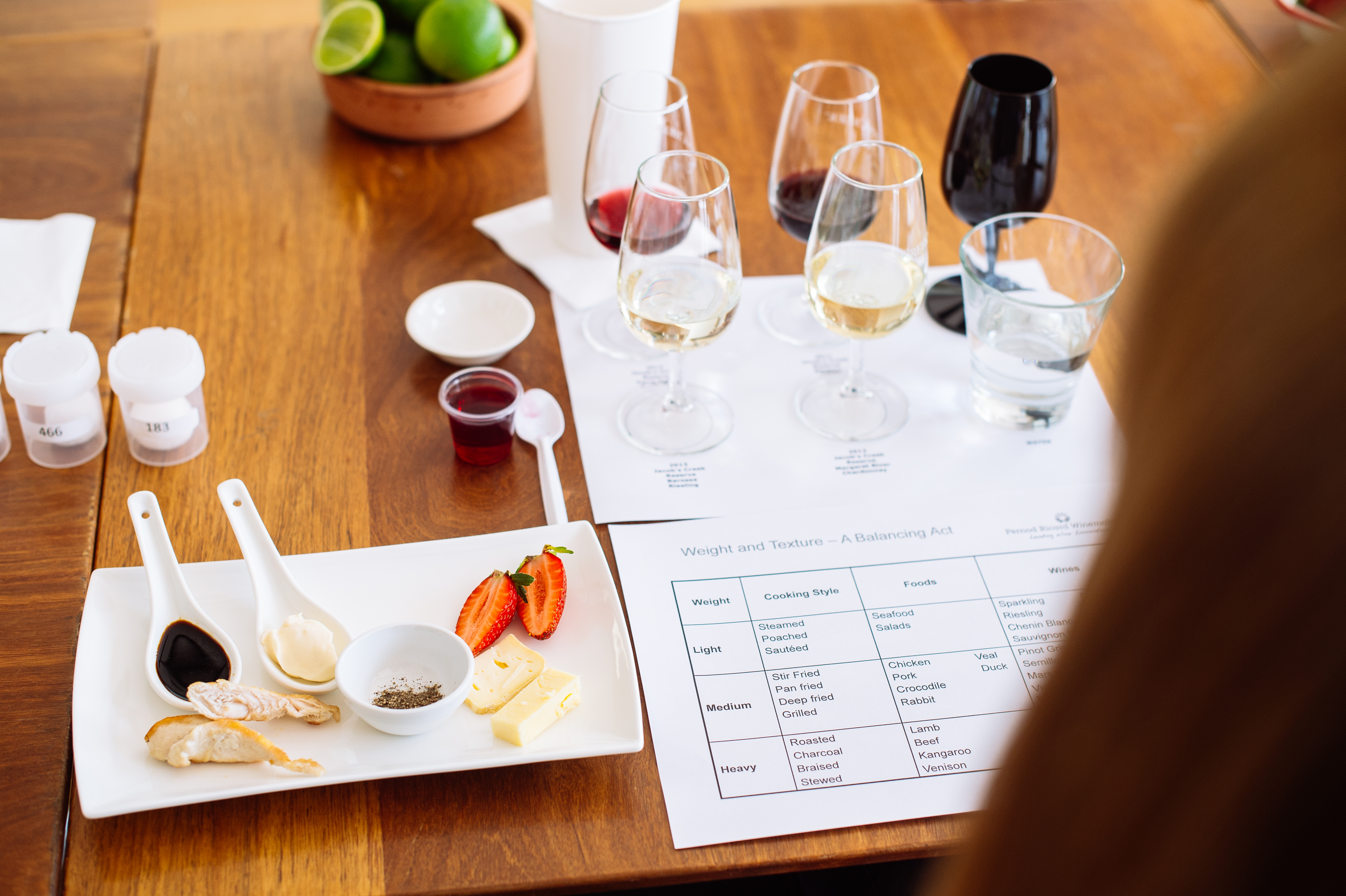 Jacob's Creek Introduction to Wine Experience & Two Course Lunch
Our taste buds can be very complex and our brain can trick us using our five senses. In this interactive workshop our staff will test your brain, challenge your taste buds with common and unusual combinations and hopefully teach you a thing or two. Let us take you on a journey with complimentary food and wine pairings. A two course lunch is included prior to the Sensory Experience. Lunch will include a shared light starter and platter style main course. You will receive one complimentary glass of Jacob's Creek wine and tea & coffee.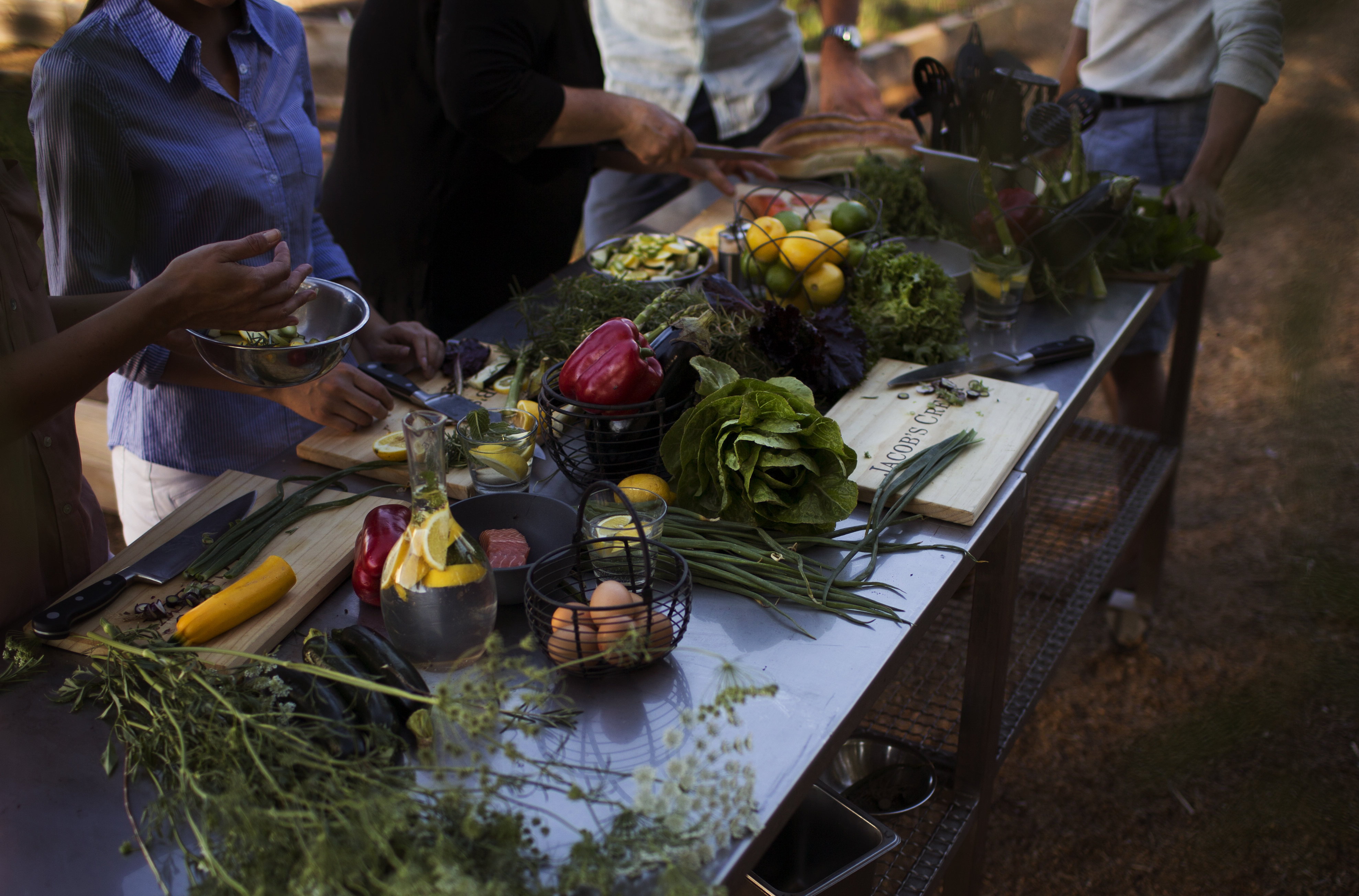 Jacob's Creek Cooking Class
Held in the outdoor kitchen at the historic Jacob's Estate Cottages. The class involves working in small teams, picking fresh produce from our Kitchen Garden, which will then be specially prepared into a gourmet meal. The unique venue provides an inspirational setting for a hands on cooking experience. After your cooking skills have been put to the test you will enjoy a leisurely lunch matched with Jacob's Creek wines. This experience is perfect as a fun team building activity for corporates, tourism and private groups looking for a unique experience.
Behind the Scenes of Jacob's Creek
This tour will take you to places off the beaten track; places only the locals know exist. Here the views of the Barossa are breathtaking and the stories told ignite your imagination. Hear the tale of a Bavarian family who created one of the world's most famous wine brands on the banks of a small creek. Your journey will begin with a visit to our famous Steingarten Vineyard where you can enjoy spectacular views of the Barossa, while sipping on a glass of Steingarten Riesling. We will then take you to the historical homestead of the Gramp family, where you can enjoy a glass of Johann, the company's flagship wine. On this site is also the original winery and vineyard where the very first wines were created. After a home cooked morning tea we will venture into the present day at the Jacob's Creek Visitor Centre. Let us guide you through a private food and wine master class followed by lunch in the restaurant. The afternoon will be spent at Jacob's Estate wondering through the Kitchen Garden and observing the Jacob Family's original homestead, dairy and servant's quarters. This truly memorable day will be finished off with a walk down our unique Cork Tree Drive.
Jacob's Creek Vineyard Tour, Wine Tasting & Two Course Lunch
Your group will be seated in the restaurant to enjoy a two course lunch. Lunch will include a shared light starter and platter style main course. Each guest will receive one complimentary glass of Jacob's Creek wine per person and tea & coffee. After lunch you will learn more about what goes into making great wines through participating in a walking tour of our display vineyard. Our tour host will provide an overview of the 14 different grapes varieties grown in the vineyard. A tutored wine tasting will follow, incorporating seven wines and basic wine education.
Visit
Our home
The Jacob's Creek Visitor Centre
Barossa Valley Way, Rowland Flat, South Australia, 5352 Australia
visitorcentre@pernod-ricard.com.au
+61 8 8521 3000
Open from 10am – 5pm daily, restaurant open from 12noon - 3pm daily
Except Good Friday and Christmas Day.