recipes > Vinegar braised pork belly and eggs dish
Billy Law from A Table for Two shares his Vinegar braised pork belly and eggs dish
Ingredients
2 litres water
1kg pork belly, cut into 3 cm (11/4 inch) cubes
5 cm (2 inch) piece ginger, peeled and thinly sliced
1 whole garlic bulb
8 star anise
1 teaspoon chilli flakes
3 tablespoons white vinegar
2 tablespoons dark soy caramel
100 ml light soy sauce
150g sugar
6 hard-boiled eggs, peeled (extra for the egg lovers)
Method
Pour the water into a large non-stainless steel pot (such as a large Chinese claypot or enameled cast-iron casserole dish), and bring to the boil over medium–high heat.

Add pork belly to the boiling water, then add ginger, whole garlic bulb, star anise and bring back to the boil again. Scoop out all the impurities floating on the surface.

Turn the heat down to a simmer, then add chilli flakes, white vinegar, dark soy sauce, light soy sauce and sugar. Give it a stir until the sugar is dissolved, then add the hard-boiled eggs to the pot. Cover with lid and braise the pork for at least 2 hours, or until the pork is meltingly tender, stirring occasionally.

When the sauce starts to thicken, have a taste and adjust the seasoning accordingly. If it is too sour or too salty, add a little more sugar. If it is too sweet, add more light soy sauce. DO NOT add more water unless it dries out too quickly. Serve hot with a bowl of steamed jasmine rice.
Wine Match
Barossa Signature Shiraz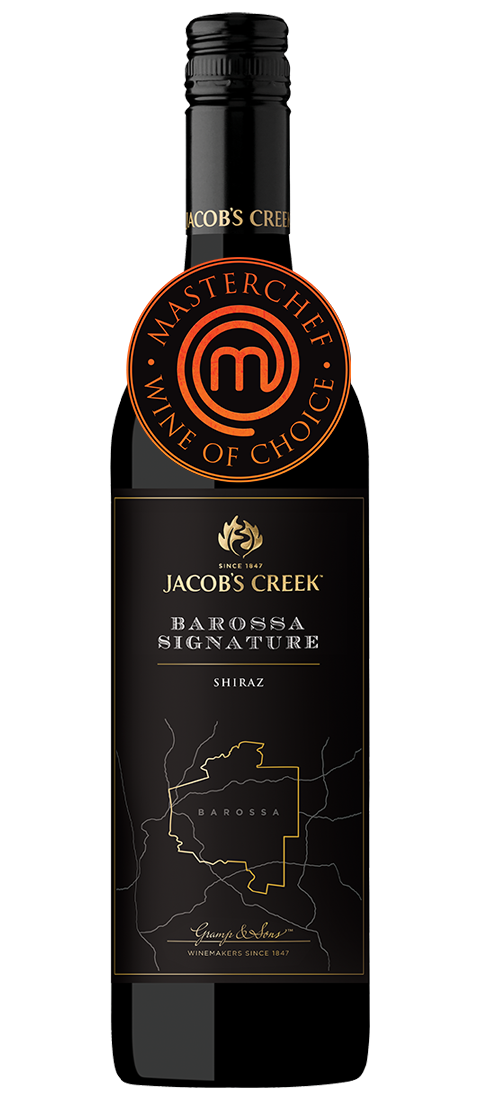 The perfect accompaniment.
See more about this wine
How about another course
Discover more recipes from Jacob's creek
Sign-up for our latest news, events and offers from Jacob's Creek
Sign-up