Meet our extraordinary team…
Our Winemakers
From vine to glass, these are the people whose dedication to craft and place can be tasted in every bottle of Jacob's Creek.
Winemaker
Nick Bruer
Meet Nick
With a strong artistic side; Nick has a passion for music and can always be relied upon to come up with the most interesting ways of describing wines.

Nick was initially an analyst and then a technical manager at the Australian Wine Research Institute – the industry's independent research and technology body. On top of that, he completed his Bachelor of Applied Science (Wine Science) in 1997, graduating as dux of his class. So, it's fair to say our Nick is a bit of a smart cookie.

By 1998, he was busy getting his hands dirty, up to his elbows in rich red wine. And that's what he's been doing since.

Right: Nick basket-pressing our premium red wines.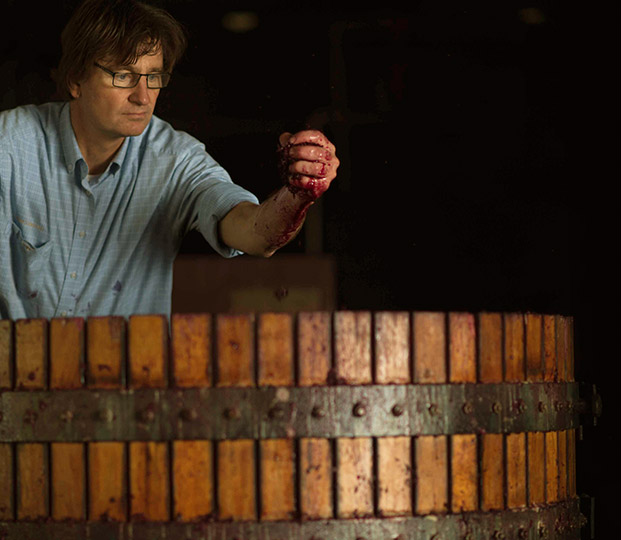 "I love seeing the wines at the press - after the grapes have come in off the vines and at last they start their transition from fruit to wine. It's as if the baton has been passed from wine growers to winemakers and then it's our turn to get really stuck in."
Nick is a believer in 'optimal input' winemaking. He believes an intimate knowledge of site and fruit, knowing when to intervene and when to hold off, allows the wine to determine its own path.

"What makes a good wine? Serendipity, craft and science all coming together."

Nick has the utmost respect for the people who tend the vines throughout the year as it is they who face the many challenges of nature and who work so hard to nurture the best possible grapes from each vintage. He believes "good wine is rooted in the vineyard".
The Jacob's Creek
Viticulturist Team
The Jacob's Creek
Viticulturist Team
Wine starts here, on the vines.
Our Viti' team take their job very seriously. As well they should - it's here that the whole process starts, and it's their decisions that not only affect the next vintage but perhaps the vintages for generations to come.

Together with our growers, they manage all aspects of vine health and grape quality including irrigation (ensuring the vines are watered sufficiently but not too much); canopy management (ensuring the vines have enough leaves to shade the grapes yet allow full ripening)
and bunch weight (ensuring the vines have enough grapes but not too many) during the growing season. After harvest they get a short respite before managing the vine pruning decisions in the winter.

Battling the elements and the vagaries of Mother Nature, our viticulture team are the key to ensuring the grapes that go into every bottle of Jacob's Creek are the best they can be.
Our
Growers
Our
Growers
PART OF THE FAMILY
We've always said, our wine should be enjoyed in the homes of families and friends. So it's a real point of pride for us that we source our grapes from over 120 independent growers - most of which are still family run vineyards. And just like the McPherson's above, many have been working with us for generations
We call our growers 'wine growers' not 'grape growers' because of the special understanding required to grow grapes that make great wine. They work closely with our viticulturists and Winemakers on all key decisions, but it's the years of experience in the day to day management of the vines that we think you can taste in every bottle.
Click here to view our updated privacy policy